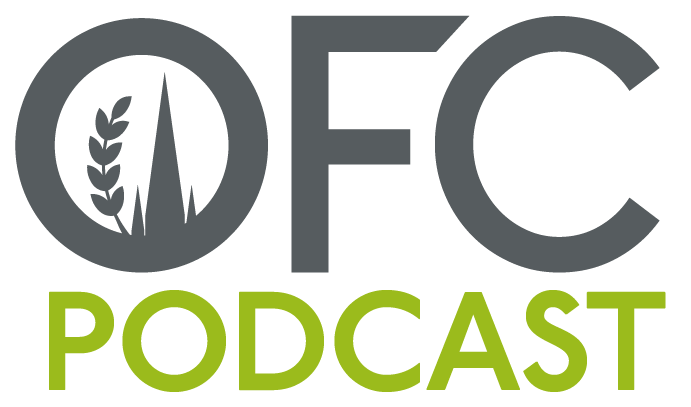 Welcome to the Oxford Farming Conference Podcast, produced in association with BASF Agricultural Solutions. Take a break, grab a cup of coffee and enjoy a podcast or two. Available to download by clicking on the link below or why not subscribe to one of our RSS feeds to receive the lasted podcast straight to your device. 
#OFC20 TASTER SERIES 
Hosted by OFC Director's Anna Hill (BBC Farming Today) and Sarah Mukherjee (CEO Crop Protection Association and formally BBC Environment correspondent) our new six-piece podcast series will delve into the lives of our #OFC20 speakers to find out what "Growing a Healthy Society" means to them in the role of business, finance, health and social.
PODCAST 2 - Henry Dimbleby, The UK Food Strategy- Host Anna Hill
OFC Director Anna Hill speaks to Henry Dimbleby ahead of the Oxford Farming Conference 2020 to find out what makes him tick, why food is his passion and what he hopes for the future of the UK Food Strategy.
Henry will be speaking on Wednesday 8thJanuary at 11.30am and will be joined on stage by Evan Davis (BBC Presenter), Denise Bentley (First Love Foundation), John Shropshire (G's Farm),Ian Mitchell (Center for Global Development) and Roger Whiteside (Greggs plc).
Register to watch the live stream HERE

PODCAST 1 - OFC Director Matthew Naylor - Host Anna Hill
In our first podcast OFC20 Chairman Matthew Naylor talks about the programme and speakers. You can book tickets for the conference HERE.

EMERGING LEADER PODCAST SERIES
In this series we interview the emerging leaders of UK food and agriculture, inspiring people from the industry who are pushing boundaries and taking UK agriculture forward in a time of interesting political and technological change. Hosted by Will Evans of Rock and Roll Farming.
PODCAST 12 - AYLETT ROAN - TAKING MILK TO THE PUBLIC
Dairy Farmer Aylett Roan from South West Scotland, tells us how the thirst to add value to milk sparked off a successful door-stop business venture, Roan's Dairy and her experience of running their mobile Udder Bar. We hear how becoming a Scottish Enterprise Rural Leader "opened up a whole new world" for Aylett and making an appearance on BBC's This Farming Life gave her the boost she needed

PODCAST 11 - DAVID HILL - MANAGING MULTIPLE ESTATES
Our next podcast hears from David Hill who is involved with the management of three rural estates so he knows a thing or two about agricultural challenges and opportunities. A Chartered Surveyor and formally working as an agricultural adviser for the CLA, he spends most of his time looking after Eling Estate, a 5,000 acre unit just north of Newbury comprising of four let farms of approximately 1000 acres each. The land is predominantly arable although one of the farms is an organic dairy farm, milking around 400-450 cows. There is also an in-hand forestry enterprise extending to 1,100-acres of mixed woodland all of which is open to the public as well as 110 let cottages. 

​​​​
PODCAST 10 - KATE MORGAN - IT'S FAMILY BUSINESS.
Pig Farmer Kate Morgan talks about the family business that she runs alongside her parents and two sisters in East Yorkshire. Running two different systems, straw yards and slats, we discuss the differences between the two, and also hear about the innovative free-farrowing system that the family installed a few years back, as well as issues facing the pig industry, such as antibiotic usage, assurance schemes, and the importance of showing children and young people what's really going on on UK farms. All this, and much, much more. 

PODCAST 9 - TIM BEAVER - A "WORK" TRIP BETTER THAN THE HONEYMOON!
Arable farmer Tim Beaver talks to Rock and Roll Farming about growing for Weetabix and Silver Spoon, the frustrations of stewardship schemes and a trip with BASF he rated better than his honeymoon. Vociferous on neonicotinoids, he also speaks about making a difference through boards, the future of Red Tractor and getting a response via Mr Gove. 

PODCAST 8 - BECCI BERRY - CHALLENGE, OPPORTUNITY AND VEGANUARY
Dairy farmer and OFC19 Emerging Leader Becci Berry talks to OFC Podcast host Will Evans about her journey into farming following the tragic death of her husband Richard to bowel cancer, the challenges she faced, her thoughts on veganuary and the anti-dairy movement, and the issues she is currrently facing as a tenant farmer. 

PODCAST 7 - NIALL BLAIR- FARMING CHALLENGES AND ENGAGING THE PUBLIC
Hill sheep and beef farmer, Niall Blair, from the Angus Glens in Scotland talks about being a first generation farmer, the challenges of upland hill farming, his own crusade to promote farming to the wider public and why he rates the Oxford Farming Conference.

PODCAST 6 - SARAH BELL - AGRICULTURE, TECHNOLOGY AND THE FUTURE
Sarah Bell is a mixed farmer, consultant, Emerging Leader and one of the speakers at the 2019 famous Union Debate. In conversation with Rock and Roll Farmer Will Evans, they talk women in agriculture, the importance of data in ag,rural connectivity, digital lockers, the new ag bil and of course...the debate!

PODCAST 5 - KATE ROWELL - LEADING THE WAY
Fifth generation sheep and suckler cow farmer Kate Rowell talks about life on her hill and upland farm near Peebles in the Scottish Borders and her new appointment as Chairman of Quality Meat Scotland. The first woman to hold this position, she talks about leadership and gaining the confidence to support the business network of farmers. She also talks about her time working as a vet for eight years including during the time of foot and mouth, why farming is something she has always wanted to do and her highlights from the Oxford Farming Conference 2018.

PODCAST 4 - NEIL QUINLAN - A HEART IN FARMING
Neil Quinlan's grandfather was a tenant dairy farmer, and Neil studied agriculture at college. However, he spent his 20s in the construction industry, always maintaining a strong interest in farming. At the age of 30 Neil thought "if I don't return to agriculture I never will". Seven years on an Neil now runs his own farm business outside Chester and contract farms his in-laws farm, rearing dairy heifers as well as raising dairy beef cross calves. He is also converting an outbuilding to accommodate guests.

​​​​
PODCAST 3 - LAURA BUCKINGHAM - OPPORTUNITIES AND ATTRACTING YOUNG PEOPLE
Suffolk based agronomist and arable farmers daughter Laura Buckingham talks about her passion for agriculture, farming stereotypes and the gender balance. In this action packed podcast she also talks about working with people to build relationships, opportunities in agriculture, how to attract young people to the industry, LEAF Open Farm Sunday and the advancement of technology and innovation.

P ODCAST 2 - JAMES CHAPMAN - LEARNING FARM SAFETY THE HARD WAY
Ahead of National Farm Safety week later this month (16 – 20 July), we hear from Warwickshire farmer, contractor, farm safety campaigner and OFC Emerging Leader James Chapman. He openly talks about the devasting farm accident in 2005 that changed his life both physically and mentally, and following his Nuffield Scholarship whether he feels farm safety is improving within the UK. We also learn about his farming background, decision to leave school at an early age, setting up on his own at the young age of 22 and his journey to National Chairman of the National Federation of Young Farmers Clubs.

P ODCAST 1 - ANDREW PITTS - LEADERSHIP IN AGRICULTURE
In the first podcast we meet Northampton arable farmer and Oxford Farming Conference (OFC) Director Andrew Pitts. We find out more about his business, leadership in agriculture, the view from Defra following a special OFC event as his farm, issues facing the industry, what more we can do to improve our businesses and plans for the 2018 OFC Emerging Leaders programme.