Meet the Director: Ian Damms
1st October 2019 by OFC press team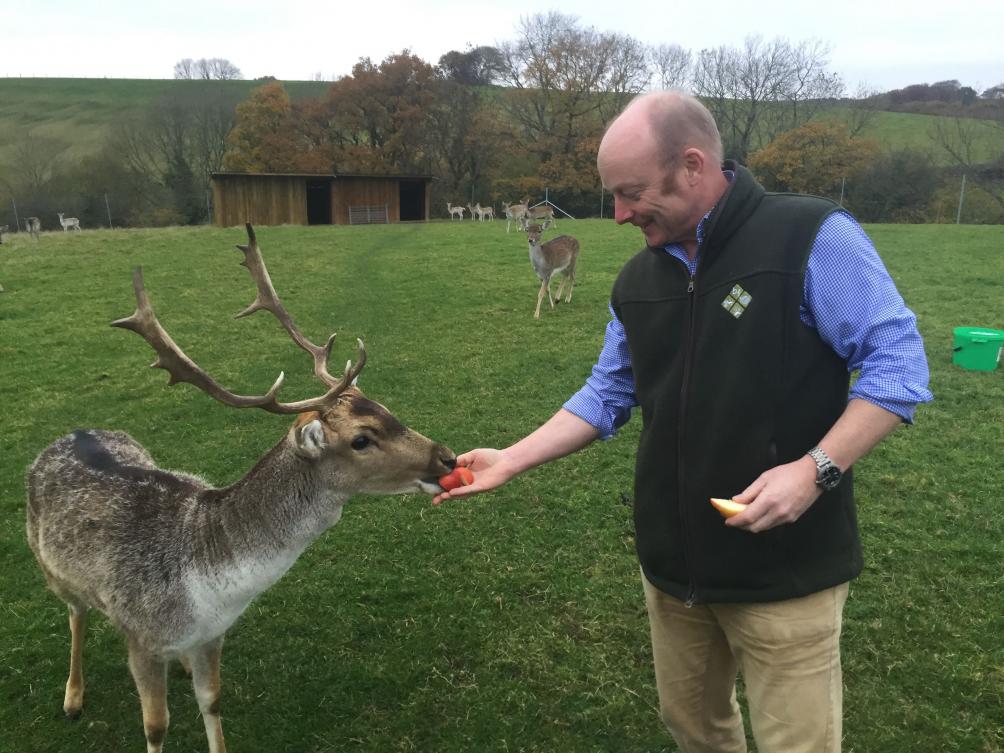 Who are you?  
Ian Damms, media company owner and farmer 
What is your day job?  
I have a media communication  business, Breeze and Freeze Ltd, specialising in agriculture  where we produce films, create apps and generally help our clients communicate within and without the industry.  My wife and I also have a small farm in Devon with a couple of holiday lets. I normally run  sheep on the land but am just sitting tight until we find out what is happening with the dreaded  'B' word.  
When did you become a director?  
I became a director in 2018 and have worked with the conference for over 14 years.
What has been the highlight of your directorship so far?
I could say getting a drink out of Andrew Pitts here but I won't! I  have been  lucky enough to have attended many conferences since being a scholar in 1992 and producing films for it for about the past 14 years  and they all seem to make me think differently directly after the event.  
Last year  probably  Sir Charles Burrell's talk on wilding made me  think  differently about that subject. Being ex-Harper and Seale-Hayne, production agriculture was key to my training but over the past few years I have  interviewed so many farmers such as  Jake Freestone and David Walston  who are really getting into their soils and more sustainable systems. I find the whole thing fascinating. My Dad was really into such things in the 70s and 80s but nobody was  reall y listening, indeed  I wasn't either.  
How did you get involved in making films?  
By accident really. My passion is practical farming and  has been since I was a toddler. I have worked on farms in the UK and New Zealand in various  disciplines  including fish farming, deer farming  and  all forms of conventional farming.  
My training is all  about  farm management and I have various qualifications to do just that including an MSc in  agricultural  business management from Seale-Hayne. My key driver in looking for a career was to be outside and  immersed  in nature which agriculture gives me.  
After working on  farms  in NZ and  travelling  in Africa I returned to the UK and a back injury and subsequent operation put me out of action for a few months. This led me to think I might have to use my brain rather than brawn to create a career and  while  recuperating. While laid up I learnt to type and wrote some articles and  appeared  on radio talking about some of my African adventures. After a while  I got a job as an agricultural journalist with Livestock magazine. I wasn't a natural writer, the pay was cr*p,  but I  worked hard to hone my skills. Whilst there the opportunity came up via the Guild of Agricultural  Journalists  to do some work experience with Anglia TV Farming Diary in the days of David Richardson and Oliver Walston. That was it for me - it was moving images all the way. It is the way my  brain  is wired. I love the fact that film enables me to become deeply involved in a subject to create a programme and then I can move on to something new. The skills I  gained have taken me all over the world and  I have made programmes throughout Europe and in  Africa, Saudi Arabia, Ukraine and  Moldova.  
Did you have a sliding door moment to get you where you are now? 
See  above!  But it was probably Mike Leyburn (editor of Livestock Farming) coming into  the  office at Livestock Farming and showing me the Guild of Ag Journalists training scheme. After working at Anglia TV I knew that film was what I wanted to do so I banged on the door of Phil and Jo Malone at Countrywise Communication, who at the time were the go-to company for the  production  of films for training and rural development. While  there I started script writing and worked my way up through all the disciplines involved, such as camera, sound, producing and directing and  learnt so  much  about the industry. 
What do you think is the best thing about British farming?  
The  people  and the countryside.  
Who in the industry has made the most impression on you and why? 
I admire Lord  Plumb for his amazing  energy  and at one point in my life he seemed to be popping up  wherever  I was in the world. What he achieved  for  the industry is fantastic. The other would be the late Professor John Alliston, who led the Institute of Farm  Management Leadership course when I attended it. He had incredible  energy and contacts and made me realise that actually one person can make a difference. It was probably his fault I applied to be a  Director of Oxford. 
Worst job you've had?  
I don't think I have had the worst job yet as I  tend to stick at stuff but I have done some things that other people might walk away from. I have  built long drop bogs in Africa , gutted  tonnes of fish with freezing hands in minus 20, filmed in environments that would send  some  people  running  for the hills but the one job that I really struggled with was working  as a  pharmaceutical  rep for a  couple of years. I loved learning the products and the science of them but spending 30 hours a week driving around the  country  wasn't for me. It wasn't active enough. The pay was great, I had a flash car, gold plated pension and all the trimmings. Indeed, if I had stuck with it I would probably have been able to take early retirement but it didn't feed my soul so I packed it in and went on an adventure in Africa. 
Totnes or Tobago?  
Totnes (I live in Devon and love it) 
Wellies or brogues?  
Boots or wellies. 
Perfect weekend?  
Probably  in Ireland at Aghadoe near Killarney at the family farm where my  mother  was born and my cousin farms now with my friends and  family, getting into the mountains with a bit of fishing and shooting  thrown in Probably with a few pints of the black stuff to top things off. 
Your desert island podcast/book/disc?  
I  would be too busy  building  an  elaborate  shelter, traps, etc. and surviving. 
Best piece of advice to your 21-year-old-self?  
There  are so  many  things I  have learned over the years which I could pass on but I think the  key one, which I share  with many of the young people I have mentored in my career is to 'be  confident in your abilities'  and do the job you love. The other would be that 'people who say the most often know the least.' Learn to listen and bring the best out of people. I have always  tended to fee l 'imposter syndrome' driven by my own insecurities but as you go through life you realise most people have it. In fact, the only people who don't seem to are politicians and bankers! 
What does  growing  a healthy society mean to you?  
As more research becomes available into the gut and soil biome it becomes more apparent that we are what we eat.  Farmers  are perfectly placed to  grow  crops and livestock to help  develop  a healthier society. Every  year  it becomes clearer that what we eat can affect our physical and mental health. Not only that, the value of being immersed in nature as a part of the agricultural industry cannot be  underestimated.