Young Agricultural Leaders Win Place at OFC 2018
10th November 2017 by OFC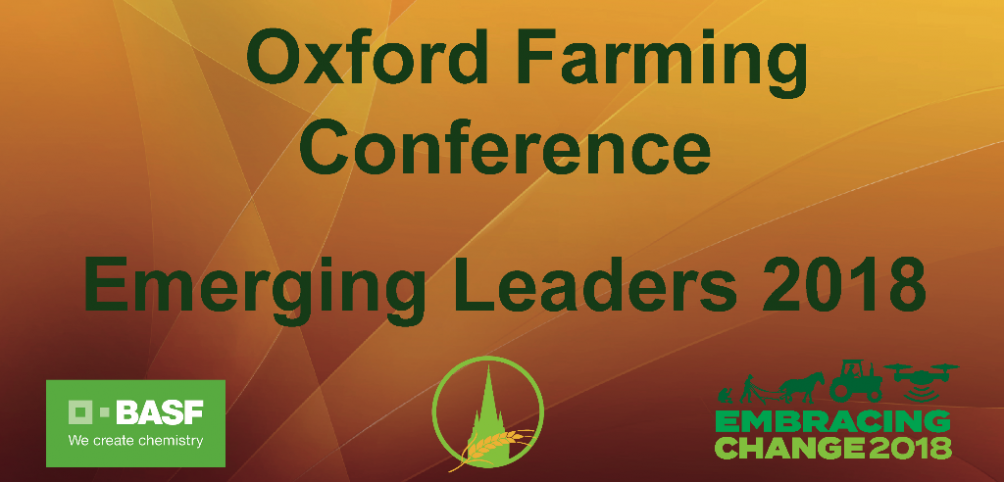 Eighteen of the most progressive farmers under 45 will be funded to attend the Oxford Farming Conference (OFC) in January 2018. Selected from all areas of agri-business, and from all over the UK, the successful candidates have won a place on the Emerging Leader Programme, which is in its second year and is part of the OFC's ongoing outreach to promote the next generation of agriculture. With BASF plc as principal sponsor, and support from the OFC's charitable trust, Massey Ferguson and Scottish Enterprise, the Emerging Leaders will be fully hosted at the three-day conference from 3-5 January 2018, as well as at a pre-event on-farm tour and policy discussion in November 2017.
The Emerging Leader Programme was established in 2017 to seek out the best young leaders, aged 30-45, in UK agriculture, and give them a platform at the Oxford Farming Conference to debate, discuss and challenge the future of UK agriculture with peers, businesses and politicians. OFC Director Tom Allen-Stevens, who is spearheading the programme this year, said
"The Emerging Leaders represent some of the most forward-thinking, progressive farmers in the UK. They have enough farming and business experience to know what works, and enough energy and foresight to identify new opportunities and how to implement them. Their thoughts and opinions matter because they are a barometer on the current farming environment and a sounding board for how future changes will affect farming prospects."
The theme for the 2018 conference is Embracing Change, and as well as the main conference events and dinners, the agenda for the Emerging Leaders includes fringe discussion groups and events. A pre-conference on-farm discussion group at Hendred Farm near Wantage in Oxfordshire, will also be attended by Gail Soutar, Senior NFU Adviser on Brexit, and Minister of State for DEFRA, George Eustice has requested to be kept informed of proceedings.
This will form the basis of the Emerging Leader discussion groups at the 2018 Conference on digital change and opportunities for farming; inspiring change and implementing this on farm; and environmental policy, greening and biodiversity. The aim at the end of the programme is to establish some broad aims for UK farming, as well as individual aims the leaders can take back to their own businesses.
Rob Gladwin of BASF, the programme's overall sponsor, as well as individual sponsor of three of the candidates, said:
"With the current uncertainties in the agricultural situation, it is more important than ever to nurture leaders to drive the industry forward. We fully support programmes that encourage leadership, and attending the Oxford Farming Conference is not only informative and inspirational, but offers invaluable networking and access to people these leaders may not otherwise have the opportunity to speak to. Relationships and ideas formed here will go on to help with their future careers and to progress the industry."
The successful candidates, which include three representatives from the European young farmer organisation CEJA (Conseil Européen des Jeunes Agriculteurs), have been selected for their motivated approach to farming and farm business, and have not previously had the opportunity to attend the conference. Chairman Caroline Millar explains:
"The Oxford Farming Conference thrives on the diversity of its delegates. These people will ultimately shape the future of UK agriculture, and it is our aim to bring as many different opinions, interests and ideas to play a part in this, including those who may not have thought to or had the opportunity to attend the conference in the past."