Fairness, transition cost-sharing and recalibration of value-sharing headline findings of 2023 OFC report
4th January 2023 by OFC Press Team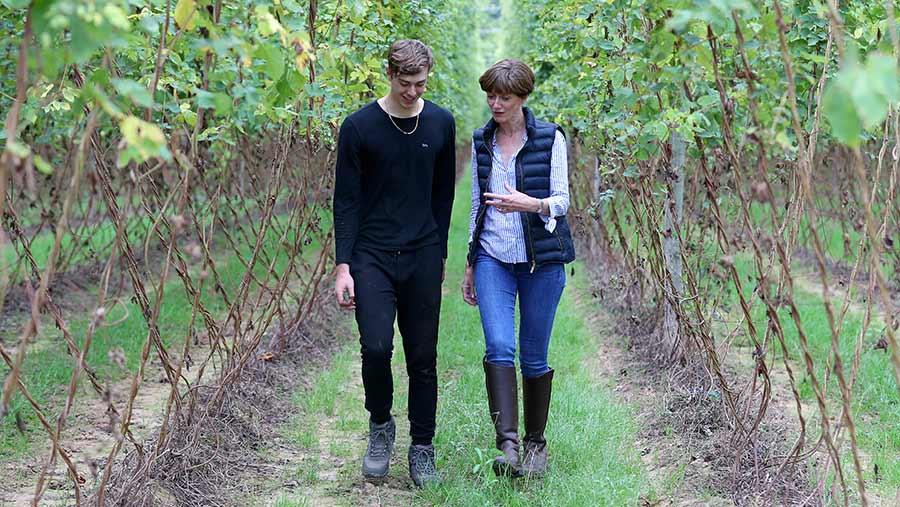 A report launched today at the 2023 Oxford Farming Conference (OFC) pointedly calls for fairness, net zero cost-sharing and the recalibration of value-sharing throughout the UK's food supply chain. 
The report - Supply Chain Synergies – What is the appropriate role of supply chains in achieving responsible production at farm level? – was authored by Lesley Mitchell, Forum for the Future's Associate Director for Sustainable Nutrition, in partnership with the OFC, Savills and WWF. 
In research, including a series of 30 interviews conducted across the food production landscape, the report centred the barriers to supply chain transformation, identifying pathways to change, and outlining how both voluntary food sector action, as well as policy, could enable these ambitions. 
Crucially, its recommendations come as the food supply chain needs to maintain affordable and available food supplies for families struggling with food and energy affordability and as inflation forces farmers to cut back on production across all sectors - from meat to eggs and fresh foods.  
OFC 2023 Chair, Emily Norton says: 
"The impacts of a long history of supply chain practices that have driven efficiencies over values is now coming home to roost as a consequence of the energy and food shocks triggered by the conflict in Ukraine. This report goes a long way to highlight the good practice that supply chains are already developing to reshape our food system in response to the climate, biodiversity, and health crises that our consumption-based economy has inflicted on us. It further challenges policymakers and markets to work together in an ambitious cycle of improvement as we seek to farm a more optimistic and healthier future, in which farmers are central to the solutions we need." 
Lesley Mitchell says: "Our food and farming supply chains are central to meeting the UK's ambitions for a thriving society and economy, and the urgent need to tackle environmental restoration and climate change. This report shines a light on the stark reality currently facing farmers, and the huge untapped potential for both the food sector and policymakers to enable an ecologically safe and socially just future for UK food." 
Kate Norgrove WWF's Executive Director of Advocacy & Campaigns adds: "This report lays out in stark terms that we must address the carbon emissions and biodiversity loss that stem from the food sector's supply chains. But farmers cannot fix our food system on their own and we urgently need coordinated action from government, suppliers, supermarkets and consumers to reduce the environmental footprint of what we eat. To bring our world back to life, we can no longer tinker around the edges: we all need to act now." 
Against the backdrop of a supply chain that is still heavily reliant on fossil fuels, and where scope 3 emissions – largely from farm production – account for 90-95% of the UK food's greenhouse gas (GHG) emissions, the sector is vulnerable to disruption, to farmers disproportionately absorbing rising costs and having to bear the risk and cost of GHG mitigating infrastructure and practices.  
"Food businesses are among the thousands of companies setting science-based targets (SBTs) for GHG reductions, putting carbon mitigation front and centre of future business strategy," Lesley highlights. "Farmers are the most important 'asset' for food companies to do this, however, there needs to be new approaches to recognise the dependence of the supply chain on the farmer and the need to reconfigure supply chain relationships that are capable of delivering the deep and urgent transformation that is needed." 
She notes that these challenges cannot be left to the market or to government alone.  
The farmers interviewed for the report highlighted three core themes needed for fair and resilient supply chains in the future, the first is that supply chain relationships need rethinking. Farmers are concerned that relationships are fraught with unpredictable contracts, failure to cover costs of production, burdensome costs of supply and unjust notice agreements.  
"The farmers we spoke to highlight the need for relationships that are characterised by reciprocity and shared negotiation, predictability, stability, confidence, and sufficient resourcing to invest and innovate," Lesley adds.  
Secondly, the report raises the need for a genuine cost sharing of the challenge of transition, including investing in new equipment, adopting new practices, meeting new standards, reporting and verification.  
And finally, long-term supply chain reconfiguration is hugely challenging, but essential. The changes needed centre on how value is determined and reflects the true costs of production, environmental and social costs.  
"Shifts over time must recognise the complexity and diversity of business models, as well as full transparency, traceability and harmonisation of standards to give a true picture of the impact and value of food production," Lesley notes. "Within this, deepening consumer engagement to drive demand for environmentally and socially responsible products is part of the transition needed." 
In terms of policy, the report calls for change which, it says, will only be achieved with "ambitious political will for action" on land management, supply chain governance and wider food system transformation.  
"Policies like the Agriculture Act (2020) offer the potential to re-orientate payment mechanisms toward desired environmental, as well as supply chain actions that support greater fairness," Lesley states. "However, the Act's effectiveness will depend on how far the government will pro-actively drive adoption of viable payment mechanisms, codes and adjudication and whether this can meet the rapid timescale of change required." 
Five potential policy areas surfaced within the report: 
Integrated political strategy – overarching across food and farming governance, which recognises and prioritises the environmental and social dimensions of food and farming, alongside economics.  
Good food governance – e.g. the Agriculture Act (2020) to provide potential mechanisms to strengthen supply chain transparency and to mandate codes of practice where voluntary action is not sufficient.  
The power of public procurement – national and local government procurement standards are a key signal for demand for new positive environmental and social outcomes, as well as a key component of delivery of our national environmental and climate ambitions.  
Trade agreements - Trading relationships have the potential to open-up new avenues for export. However, if market access is allowed for products with standards lower than those produced within the UK, this could risk damaging 'home-grown' food and farming. It will be difficult to argue for effective delivery of positive environmental and social outcomes if farmers are undercut by imports that are not produced to the same attributes.  
Research, innovation and skills - The shifting landscape of food and farming will require new priorities for innovation, skills and education to deliver the evidence base for change. 
Emily Norton says: "The challenge is immense, but I hope the recommendations of this report are an inspiration to all. Doing better has already started and we all have a part to play. On behalf of the Oxford Farming Conference and our report sponsors Savills and WWF, I would like to thank Forum for the Future and, in particular, Lesley Mitchell for her efforts in bringing this important report together." 
To read the report in full, visit https://www.ofc.org.uk/ofc-reports
****
For any press enquiries, please contact marketing@ofc.org.uk 
About the Oxford Farming Conference 
The Oxford Farming Conference (OFC) is a leading UK agrifood conference with a mission to inform, challenge and inspire its community. The OFC's main conference is held annually in January over three days and includes a vibrant programme of speakers, panel sessions, politics sessions and easy networking.  The 77th conference will take place in 2023. OFC has established a reputation for strong debate and exceptional speakers. It attracts over 600 delegates every year, including many people from the wider food chain, retail, NGOs, scientific organisations, media, policy-making bodies and governments from around the world.  With HRH Princess Royal as its patron, OFC is a charity with a remit to educate and transfer knowledge in the agricultural sector. As part of its charitable undertakings, the OFC sponsors young people to attend the conference, to travel overseas and it seeks to develop emerging leaders. Its Council is made up of 10 voluntary directors.   
About Forum for the Future 
Forum for the Future is a leading international sustainability non-profit. For more than 25 years we've been working in partnership with business, governments and civil society to accelerate the shift towards a just and regenerative future in which both people and the planet thrive. Forum is focused on enabling deep transformation in three game-changing areas: how we think about, produce, consume and value both food and energy, and the role of business in society and the economy. 
About the report's author 
Lesley Mitchell is Forum for the Future's Associate Director for Sustainable Nutrition. She leads Forum's work on food, with an expert team covering innovative topics including the future of protein, sustainable animal feed and regenerative agriculture.