A greater investment is needed in people
26th August 2020 by Holly Ferguson, OFC Scholar 2020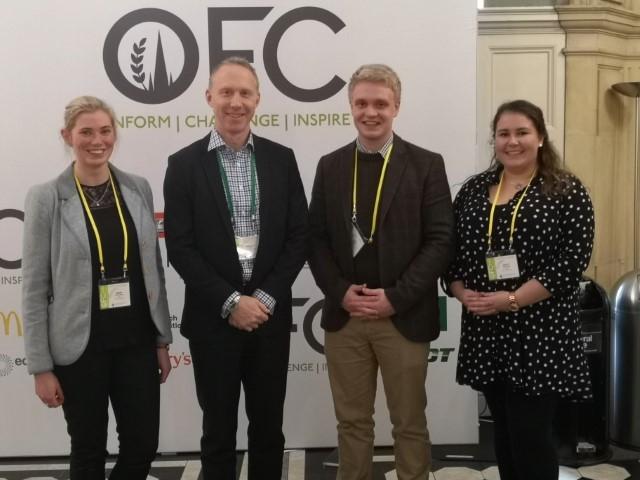 Holly Ferguson is a Precision Dairying Scientist with SRUC, and attended the OFC for the first time in 2020. Sponsored by SRUC, she was joined by Jack Munro and Kerry Cartwright, early-career colleagues and students from different faculties at the college.  "There is a great need for more corporations, education institutes and societies to invest in their people." was just one of their take-home messages.
SRUC sponsored three early-career colleagues and students, one from each faculty, to attend and participate in the prestigious Oxford Farming Conference as Scholars.
Kerry Cartwright, Jack Munro and Holly Ferguson were given this unique opportunity to attend, meet new likeminded industry professionals, witness top speakers and get involved in exploring current issues facing farming.
The Oxford Farming Conference incorporates seminars, debates and many networking opportunities.
The Scholar's programme creates a platform for young professionals to question the industry, debate contrasting agricultural views and learn about those who have achieved great and novel industry success, as well as those who have faced great difficulty.
The Oxford Farming Conference theme this year was "Growing a Healthy Society"; a theme the scholars explored further through tutorials, such as exploring what "sustainability" means and how McDonalds (Scholar's Programme main sponsors) could do more to safeguard sustainably in the future of farming.
Ideas included innovation on farms, whether through use of technology or resources, financial incentives for sustainable choices, considering waste (particularly relevant for McDonald's) and investing in sustainability education, both for farmers and the public.
Sustainable farming was a recurring theme, highlighted by 'Inspiring Farmer', Helen Browning, who urged the crowd to "live as if you'll die tomorrow but farm as though you'll live forever".
The politics session was a particular highlight, drawing a vast crowd and including talks from the Secretary of State for Environment, Food and Rural Affairs, Theresa Villiers, NFU President Minette Batters, Professor Fiona Smith and Friends of the Earth CEO Craig Bennet. The session opened with a truly inspiring speech by Minette Batters in support of British farming; praise for our high standards of animal welfare and production, for our sustainability and action on climate change and a call to Government for a Food Standards Commission to ensure the protection of these standards during Brexit negotiations.
Henry Dimbleby's speech on the UK's National Food Strategy and the subsequent debate once again focussed on sustainability. Dimbleby spoke of building a "robust food system, providing affordable, safe and nutritious food, good for us and the environment and future-proofed".
Minette's request to protect standards was highlighted again, with a call to consider not only the environmental impact of UK produce but to apply the same standards to food imports, to allow the UK to become a leader in sustainable food production.
In contrast to much of the current media, the positives of red meat and dairy consumption were demonstrated in the science debate by Professor Alice Stanton, Royal College of Surgeons. Stanton highlighted the need for greater consumer awareness of the health benefits of meat and dairy and the negatives of supposed "healthier" options, such as meat alternatives. Her key take-home message was that "major reductions in ruminant agriculture (red meat and dairy) to reduce greenhouse gasses is very likely to harm human health, especially children in early year's development".
Further highlights on the three days included a breakout session on the positive role farming can play in mental health, where social prescriptions and "care farming" were explored.
The Inspiring Farmers session discussed overcoming difficulties and risk-taking with Helen Browning, Jago Pearson, Jekka McVicar and Alex Brewster as key speakers.
It was highlighted at the conference that there is a great need for more corporations, education institutes and societies to invest in their people and do what SRUC have done by sponsoring our attendance at the Oxford Farming Conference. Supporting young people in agriculture, giving them the tools required to flourish, to make mistakes, learn from them and become champions for the sector as it is a necessary part of UK Agriculture's continued succession.
To find out more about the Scholar programme, email secretariat@ofc.org.uk