Meet the Director: Emily Norton
29th May 2020 by OFC Press Team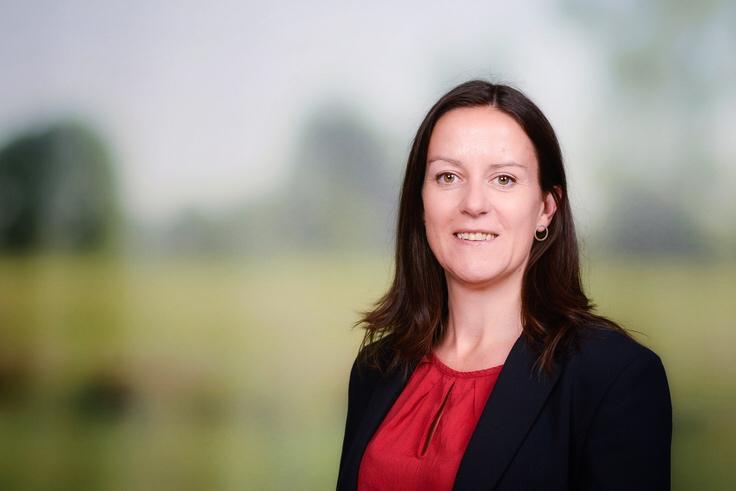 Introduction:
My name is Emily Norton, and I am Head of Rural Research at Savills UK Ltd. I grew up on a mixed dairy and arable farm in Norfolk and was involved in the farm from a young age, but I left to study law and qualified at a City law firm before moving to a regional firm. It didn't last long, and I soon went to Harper Adams to read an MSc in Sustainable Agriculture, which enabled me to write the business plan for how I could come back to the family farm. We started an on-farm dairy business in 2007, and had some success at the British Cheese Awards over the years. I took a second job in agricultural politics in 2014, working for an MEP in Brussels, and then was lucky enough to be awarded a Nuffield Scholarship in 2018 to study agricultural policy design. This lead me to a fortuitous lunch on the 7th floor at Savills' global head office in London, and my current role as Head of Rural Research. It is a national role, working with a talented team of data and policy analysts across the country. We seek to produce market-leading insight and information on rural economy trends and influences, to help our clients make good decisions for their businesses. I am increasingly involved in sustainability advocacy across the Savills business.    
I have been an OFC Director since 2020, to cover the 2021-2023 conferences. It is a huge honour to be a custodian of the industry's ultimate thought leadership event, and as with everything in life, I hope to leave it in even better shape than I found it.  
Could you please describe for me your first experience of the Oxford Farming Conference (OFC)?  
I first attended OFC as a policy researcher with my MEP, so I was rather on his coat tails. What delights me about OFC though is the ability and willingness of delegates to engage in conversation at any time – in the queue for coffee, on the walk to dinner, wherever. Everyone comes with an open mind, and ready to do business.  
Why did you want to be part of the OFC Council?  
Our industry has never faced a series of challenges like it does at the moment, with a change in policy, a change in political economy and a change in consumer expectation. I get frustrated by inertia within the sector, but also know that there is a huge amount of good practice within the industry that is worth preserving. The march of capitalism into agriculture is not inevitable, and I hope that we can find new and beneficial ways to hold environmentally-dependent business to account. There's no better forum for debating and influencing these mission-critical concepts than the OFC Council.  
How has your life experience made you the leader you are today? 
I made a lot of mistakes early on, trusting the wrong people and investing in other people's expectations of what I should be in life. I suppose the lows of the early 20-teens turned for me through attending the Worshipful Company of Farmers Challenge of Rural Leadership course in 2014. I made some big decisions on my return, and some of those are still in progress. I find it hard to be content with average, so I know that I am my own worst enemy at times, but I now strive to work with my team and my colleagues to help them be their best all the time. Injustice and negativity really annoy me! A couple of management tools, amateur psychology and a healthy dose of honesty seems to get me through my new leadership roles. The ultimate goal is to seek perfection whilst knowing that being imperfect is more than good enough.  
What has been the highlight of your Directorship so far? 
It's been a super-challenging year already, with coronavirus and the 75th conference plans disrupted. I have enjoyed being able to get creative with ideas of how we can maximise impact and broaden our reach, even under these sadly constrained circumstances.  
What OFC session or speakers has most impacted you and why? 
Eve Turow-Paul (2019) sticks in my mind. I was heavily involved in food business at the time, and had just taken part in the OFC Debate on a 'meat free future'. It was a turning point personally, in understanding how the younger generation's attitudes to food were changing and how our industry was perceived.  
In your opinion, at this present time, what is the biggest challenge and opportunity for British agriculture? 
The biggest challenge for agriculture is inertia. Regulatory reform, climate disruption, consumer expectations are all coming with a vengeance. Farms need a plan. But every problem can be turned into an opportunity with the right attitude and support. And so there are opportunities aplenty…  
Oxford is entering a new chapter taking the conference digitally, what new opportunities do you think this will present? 
I am looking forward to engaging with a wider and new audience online, who maybe couldn't make it physically to Oxford. As the host of the first Oxford Bitesize event, the pressure is on to ensure that we deliver the Oxford quality in a digital format. My main concern with digital formats is that in theory, we are all connected, but in practice, connections are formulaic and not serendipitous. In the current lockdown, digital mode, I am missing surprises most of all. If we can work out how to bump into people at a virtual event, then I think we will have maximised the opportunity for all.   
You're hosting a webinar as part of a new digital Oxford Farming Conference offering, what will your session address? 
In 1939, the conference title was 'The Business Organisation of Farming'. It intrigues me that this is something that was under discussion back then, at a time of relative farming depression. I hope to have a couple of voices to give us a glimpse into our farming past, but the conversation will very much be on our farming future. George Eustice wants the industry to stand on its own two feet. What does this mean for UK farming businesses? Are we allocating capital correctly? Is risk and reward in the right balance, and if not, what needs to change? I'm thrilled to be joined by TFA Chair George Dunn, SLE chief-exec Sarah-Jane Laing, Groceries Code Adjudicator Christine Tacon, and Nuffield Scholar and institutional investment advisor Gus Selby.  
How do you maintain work/life balance? 
I love what I do, and do what I love, so it doesn't feel like work.  
The recent pandemic has allowed us all time to think about our mental health, what do you do to a maintain a positive wellbeing?  
Fairly early on I turned off all my news channels bar a couple of email digests, to limit the urge for information. And now I am happily watching the season change each day – it has forced a lot of us to stop chasing and start being more patient.  
What is your guilty pleasure – book, film, TV programme? 
Just before lockdown I joined a clothing subscription service, so I could refresh my work wardrobe without it costing the earth. I still subscribe now, even in lockdown – dressing up each morning in something that makes me happy gives my online workday good focus! And allows me to change outfit and mindset for the evenings, outdoors and relaxing.