OFC scholars attend Eurotier 2016
24th November 2016 by OFC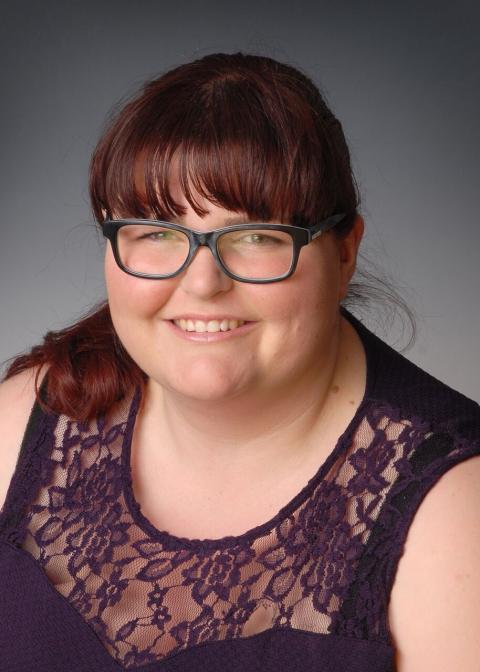 Alice Partridge, Lynsey Martin (pictured) and Oscar Smith attended Eurotier last week as selected scholars representing the OFC as part of the organisation's OFC/German Agricultural Society (DLG) Travel Award. The trio were hosted by the Junge DLG (German Agricultural Society). Also attending were Robert Yardley, one of last year's scholars and OFC director, Tom Allen Stevens. Lynsey Martin, National Vice Chairman of the NFYFC spoke at the Junge DLG conference.
Commenting on the experience, Alice, a Nottingham University undergraduate, said: "I had a fantastic week in Hannover visiting EuroTier as an Oxford Farming Conference Travel Scholar.  Throughout the week I was able to expand my agricultural knowledge on a global scale with a huge number of companies and people from across the agricultural community to learn from and network with.  I particularly enjoyed speaking to Cogent Breeding  and it was great to learn more about genetics and the future of the global beef and dairy industries.  The Junge DLG were fantastic hosts and organised us a brilliant farm visit and tour of KWS at Einbeck, it was fascinating to learn about sugar beet and maize seed production."
Adding to her comments Ms Partridge said that the piece of technology that most impressed her at the event was the DeLaval body condition scoring camera which, she explained, can be used to measure dairy cow's body condition scores (BCS) daily. "This equipment takes a 3D image of cow's back and uses it to work out their BCS, allowing it to be closely and regularly monitored.  This impressed me as it has some fantastic practical applications to help improve the management of dairy herds, increasing cow performance and allowing feeding to be optimised."
Oscar Smith added: "Eurotier was amazing! It was great to see the latest developments in the industry and gain a better understanding of the agricultural industry on the continent, the pressures they are facing and learning from the systems and organisations that they have in place. The DLG looked after us emphatically, and Tom  Allen-Stevens and Rob Yardley did a great job of organising really interesting meetings with influential people from across the industry. I have come away with a renewed mindset for the direction our industry could/ should take in the future."
As part of the partnership between the OFC and DLG, three Junge DLG board members, Harald Schuth, Jobst Petersdorff and Maximilian Schulze Esking. 
Lynsey Martin is is from Kent, she has a very small beef herd and very small flock of her own sheep on the family farm and separate to that business.  She utilises the permanent pasture on what is now a predominantly arable farm, which would otherwise not be used. She also works for a small farm with a pedigree herd of cattle and a pedigree flock of sheep, also a family farming business. Outside of work she absolutely loves her role as National Vice Chair for NFYFC,  if possible even more than she loved her former role as the AGRI Chair last year. Lynsey is one of the debaters at the 2017 OFC Oxford Union Debate. 
Alice Partridge is studying for a BSc Hons Agriculture and Livestock Science, University of Nottingham. Alice is a McDonald's Progressive Young Farmer and Oxford Farming Conference Scholar 2016. 
Oscar Smith is Oscar is a 21 year old who describes himself as fully committed to agriculture. He is studying part-time at Easton and Otley College for a Foundation Degree in Agricultural Management which will take him five years to complete and is paying the tuition fees himself. Alongside his studies he is working on a farm breeding Aberdeen Angus cattle and Suffolk horses. He won the Wayland show Young Achiever Award in 2015. I have also attended the Farmers Weekly Fertile Minds 2014 conference. He is currently in the process of applying for a Farm Business Tenancy.