Taste the difference: Grate Cheese debate reveals impact of inputs on food
5th January 2017 by Caroline Stocks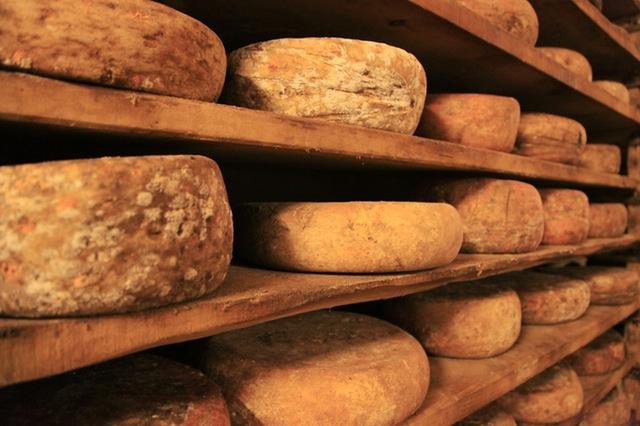 Delegates from the Oxford Farming Conference and the Oxford Real Farming Conference have been given a unique opportunity to taste how inputs can impact food at the first event bringing the two conferences together.
The Grate Cheese Event, organised by Innovative Farmers, saw delegates from both events gather for a special cheese and wine evening, where they had a chance to taste cheeses from a number of innovative dairy farmers and cheese experts.
Hosted by Innovative Farmers, delegates heard about the different ways cheeses are produced, and got to taste exactly how different production systems can result in very different products.
Panelists including Peter Alvis of Lye Cross Farm, Hugh Padfield of the Bath Cheese Company, Mary Quicke of Quickes and Robin Skailes of Cropwell Bishop Creamery discussed issues ranging from the importance of the breed to the influence of the cheese flavour.
They also discussed the viability of grazing dairy systems in a post-Brexit economy which could limit access to low-cost, skilled labour.
Hosted by BBC Farming Today presenter Charlotte Smith, delegates were guided through a tasting board of cheeses from each of the producers, who each use very different production systems and methods.
Robin Skailes explained how the clover in organic pasture creates a softer cheese which tastes very different to his non-organic blue cheese.
"There are more omega 3 fats in organic milk that give a softer texture," he explained. "If you eat both regularly you will notice a difference."
Mr Skailes also explained how spring and summer milks create sweeter cheeses, which is why spring-made Stilton cheese have become so popular at Christmas when they are at their tastiest.
Artisan cheddar producer Mary Quicke told delegates about the importance of investing in marketing and telling the story of the product if they want to be able to charge a premium for food.
"Farmers tend to think that their own system is the only system that will make money, but it's excellent management that makes the difference in profitability," she said.
"We have to get better at telling the story and letting people know that our products are fabulous value."
Innovative Farmers is part of the Duchy Future Farming programme and funded by the Prince of Wales' Charitable Trust.
The network helps farmers come together to test new approaches in practical field labs, getting funding and research support on their terms.